On the Basic tab for Real Browser checks and Uptime checks, we'll find a setting called Round Robin.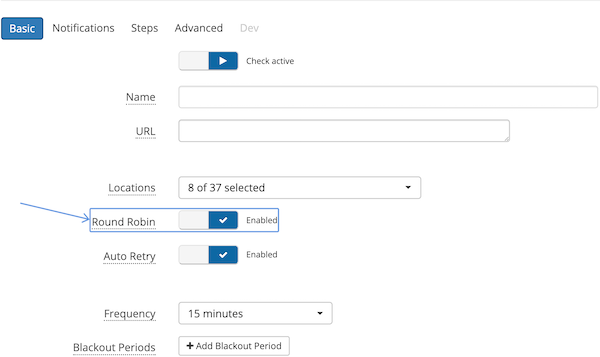 The Round Robin setting relates to the Frequency setting on the Basic tab and the Locations settings.
When Round Robin is enabled Rigor will cycle check runs through the selected locations at the specified frequency, running from one location at a time.
When Round Robin is disabled Rigor will run the check from all selected locations at the specified frequency, running from all locations at once.
This feature comes in handy, especially if our multi-step check:
Monitors a user login requiring unique browser sessions, where the user can only be logged in from one location at once, or
Monitors a user flow where a site dynamically identifies the user's zip code for use in a form
By default, Rigor checks run Round Robin through locations. As a best practice, we should only disable round-robin if we need maximum run coverage for more aggressive alerting.
Note: Not all Rigor accounts have access to disable the Round Robin setting. If you'd like to disable Round Robin and don't have the ability to un-check the box in the app, email support@rigor.com and we'll work with you to add this option to your account plan.