Single Page (Basic) tests in Rigor Optimization enable you to run an instant analysis on a single URL.
How to Create a Single Page Performance Test in Rigor Optimization:
From the top navigation, click + New Test > Create New Test

On the Basic tab:
1. Start URL. URL of the page you wish to test.
2. Device Type. Specify the browser to emulate and viewport size used for the scan analysis.
3. Test Name (optional). Pick a unique, descriptive name so that we can determine the test's function at a glance.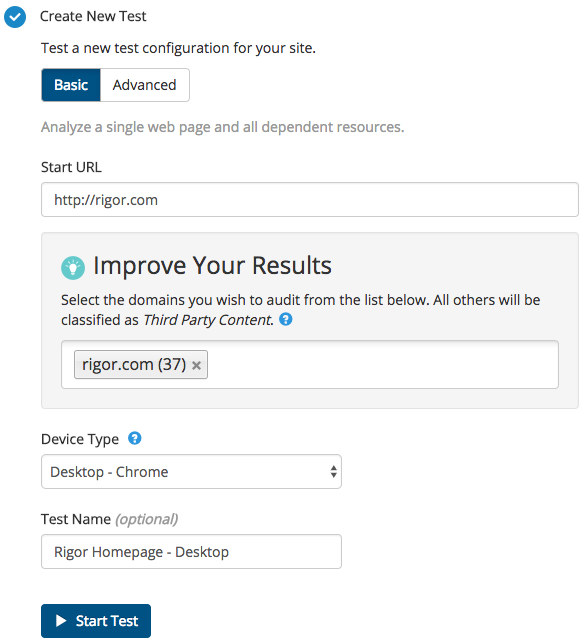 On the Advanced tab (optional):
1. Scanner Options. Customize the behavior of the performance scanner.
2. Browser Configuration. Customize the browser configuration used for your performance scan.
3. Authentication. You can test password protected pages by specifying basic HTTP Authentication or configuring a login script.
Learn more about Configuring Advanced Testing Options in Rigor Optimization
Best Practices
See best practices for Single Page performance tests
Notes:
Single Page tests can be set to run on a recurring schedule (1x per day).
Single Page tests generate a waterfall chart with network timings. The timings in Optimization are collected through a headless browser and are not meant to replace synthetic or real user monitoring data.