Bulk Pages (Advanced) tests in Rigor Optimization enable you to analyze a list of web pages and all dependent resources.
How to Create a Bulk Pages Performance Test in Rigor Optimization:
From the top navigation, click + New Test > Create New Test > Advanced > Bulk Pages

On the Advanced tab:
1. URLs to Scan. List the URLs of the page you wish to test, separated by line.
2. Device Type. Specify the browser to emulate and viewport size used for the scan analysis.
3. Test Name (optional). Pick a unique, descriptive name so that we can determine the test's function at a glance.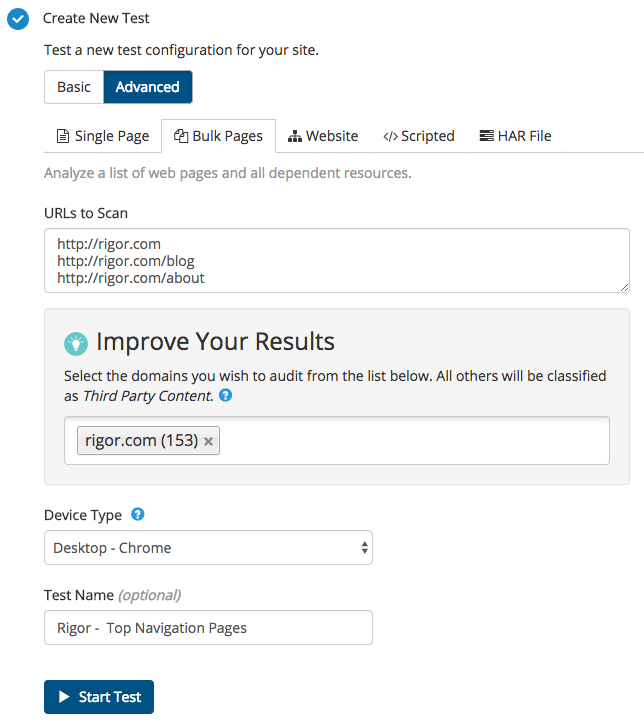 On the Advanced tab (optional):
1. Scanner Options. Customize the behavior of the performance scanner.
2. Browser Configuration. Customize the browser configuration used for your performance scan.
3. Authentication. You can test password protected pages by specifying basic HTTP Authentication or configuring a login script.
Learn more about Configuring Advanced Testing Options in Rigor Optimization
Best Practices
See best practices for Bulk Pages performance tests from the Knowledge Base.
Notes:
Bulk Pages tests can be set to run on a recurring schedule (1x per day).
Test results are aggregated for each URL that is scanned and resources present between pages are only referenced one time in the results.
Each license limits the number of URLs that can be configured in a Bulk Pages test. View your bulk test limit on the account settings page in Rigor Optimization.
Bulk Pages tests generate waterfall charts with network timings for each URL that is scanned. The timings in Optimization are collected through a headless browser and are not meant to replace synthetic or real user monitoring data.