Users
Users with Administrator roles have the ability to invite new users to Rigor. There is no limit to the number of users we may invite into a Rigor account.
Before creating a new user we will need to know their name and their email address.
To create a new user:
Admin > Users and Groups > New + User

Enter a name, email address, and select a user role for the new user: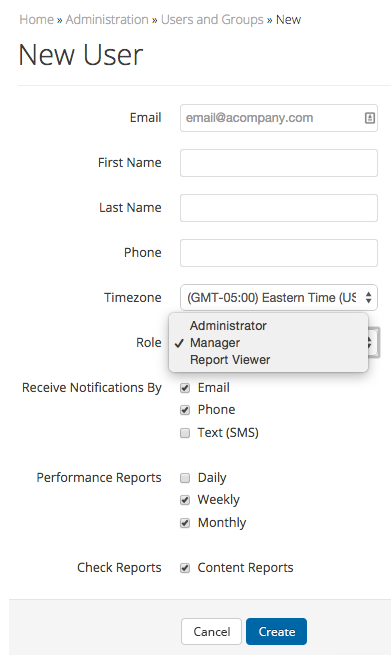 We may optionally configure other settings such as the user's phone number, timezone, and how they will receive alerts and reports from Rigor.
Click 'Create'
When we click 'Create', Rigor will send a welcome email with the subject: [Rigor] Please set your password to the new user's email address, prompting them to set a password and log into the Rigor app.
Groups
After more than one user has been created, we can create a Group with several users. Groups are used to configure alerts to send to several users at once, so we should create Groups based on email addresses that should be alerted together.
To create a new group:
Admin > Users and Groups > New + Group