A Status Page is a resource to demonstrate the status of current performance and availability as well as status history at a glance.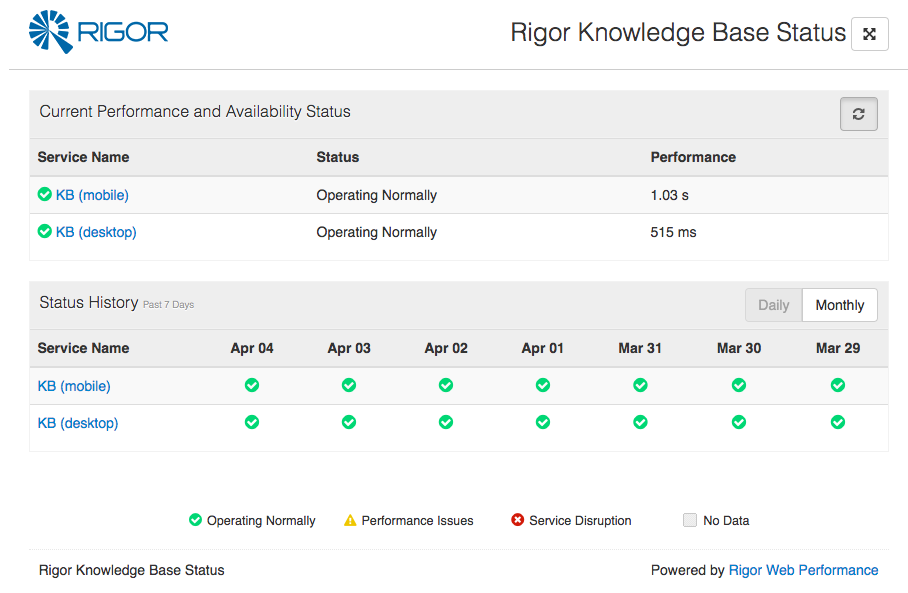 Rigor makes it easy to create public or private status pages for multiple checks already configured in your account.
To create a Status Page visit:
Dashboards > Status Page > + New
Status Page Settings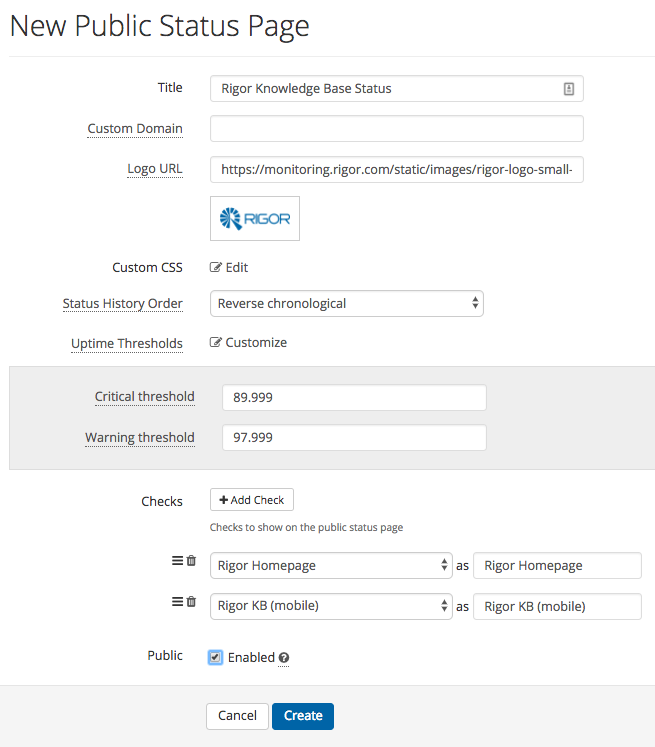 Title (required)

The title for your page. This will be displayed in the header and footer on the public status page.

Custom URL (optional)

A custom URL to point to your page.

To use this feature, you must add a CNAME mapping the custom URL you provide to point to monitoring.rigor.com and you must enable your status page to be public. Once you have added the CNAME entry and provided your custom URL, you can use the custom URL to access your public status page.

The CNAME record is used to point a sub-domain to another hostname. Typically, you will have to set three things: Alias, Type, and Points to.

| | | |
| --- | --- | --- |
| Alias | Type | Points to |
|  status.yoursite.com  |  CNAME  |  monitoring.rigor.com |

Logo URL

A URL to your company logo to brand the public status page. An image preview will render the logo as it will appear on the public status page.

Custom CSS (optional)

Insert your own custom CSS to change the look & feel of your status page.

Status History Order

Display check status history in Chronological or Reverse Chronological order.

Uptime Thresholds

Customize the upper bound for critical or warning status. By default, the upper bound for warning status is 97.999 and the upper bound for critical status is 89.999.

Checks

Selected checks will be displayed in the order added. You can provide customized names for the checks using the text box next to added checks or drag to re-order checks.

URL

This is the default URL for your Rigor status page. By default, this URL is only accessible to users logged into the Rigor app.

Public

Enabling this feature makes the URL of your status page public, so it can be shared with people who do not have access to log into Rigor.
To access the Public URL of your Status Page, return to the main 'Status Page' dashboard where all your pages are listed. The public URLs can be found on the far right.

What do the Statuses Mean?
Status pages work just like Dashboards, where the status is based on the Uptime percentage. The thresholds are as follows:
Red (Service Disruption): < 89.999% uptime
Yellow (Performance Issues): 90% - 97.999% uptime
Green (Operating Normally): > 98% uptime
Notes:
Days on the Public Status Page are based on UTC - Coordinated Universal Time

Statuses auto-update throughout the day based on averages