Selenium IDE is an open source plug-in for Firefox browser that allows us to record a user flow and import it into Rigor to easily create new multi-step Real Browser checks.
To get started using Selenium IDE with Rigor:
Find the latest version of Selenium IDE here and click + Add to Firefox.
Restart the Firefox browser and go to Tools > Selenium IDE to open the recording window.
In the Firefox browser, navigate to the starting URL for the user flow to record and monitor. Note: If the site we're testing behaves differently for cookie'd visitors or logged in users we will want to open the page in a new window with cookies cleared or a new incognito window and make sure we're logged out before we begin recording our user flow.
Update the 'Base URL' field in the Selenium IDE recording window to match the starting URL in the Firefox browser window.
In the Firefox browser window, start interacting with the page, clicking and stepping through the user flow to record and monitor. Notice that Selenium IDE records actions as steps.
When we're done with the steps we'd like to record and monitor we can click the red circle icon on the Selenium IDE recorder to stop the recording.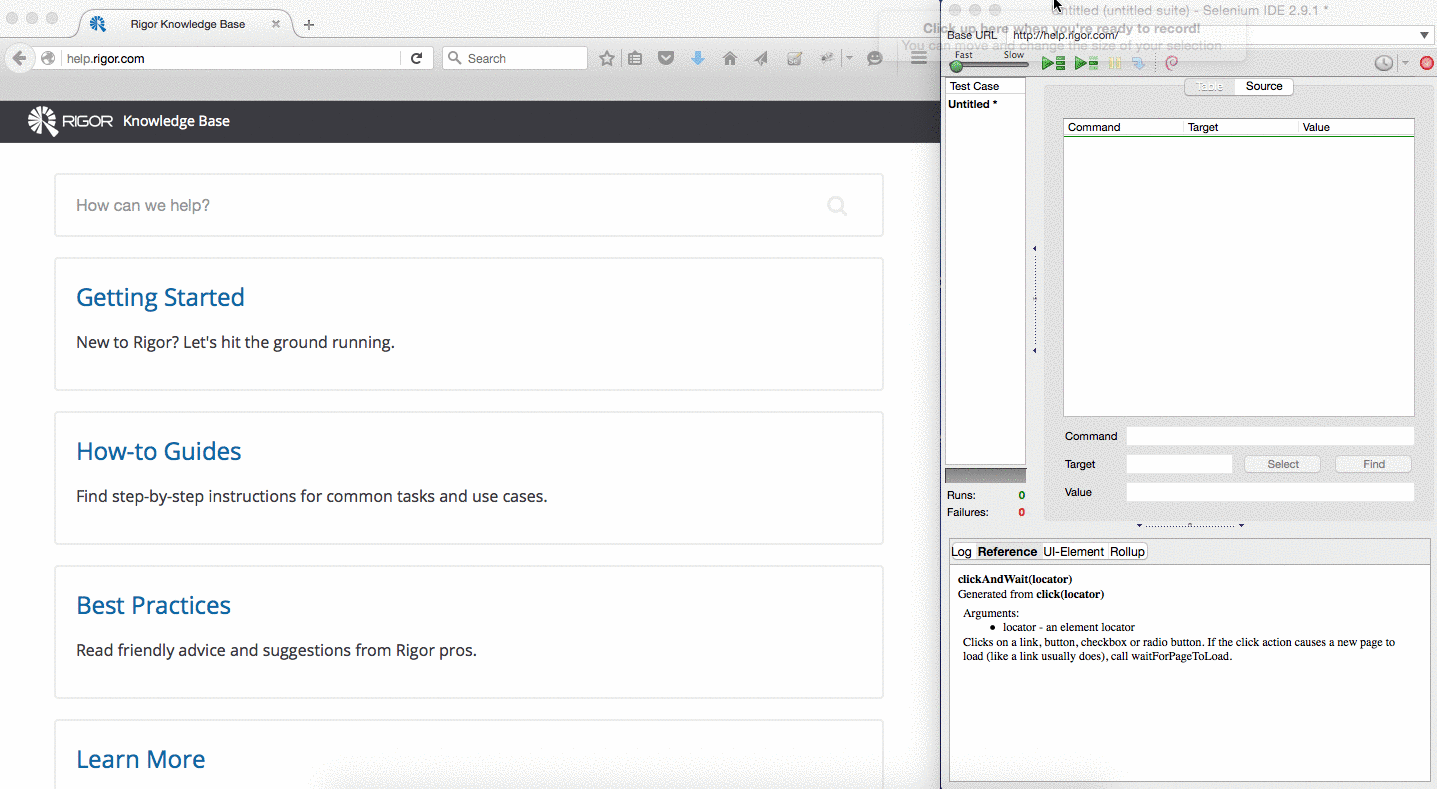 Reading the Selenium IDE Recording Results
The Selenium IDE records steps and displays the steps in a table with three columns: Command, Target, and Value
Command represents the action
Target represents the selector type (ID, CSS, xpath) and the specific selector that Selenium can use to target the element that corresponds to the action
Value represents any value that should be entered into a field
For example, if we want to record entering the value "Zoompf" into a search field with the ID "search-input" then the row in the Selenium IDE recorder for this action would look like:
| Command | Type | Value |
| --- | --- | --- |
| type | id=search-input | zoompf |
Playing Back the Selenium IDE Script
In the Selenium IDE recorder window, click the green 'Play' triangle with a single green line to 'Play current test case.' We may want to adjust the speed settings from 'Fast' to 'Slow.'
Note: the speed setting appears like a slider, but we cannot drag the green circle from 'Fast' to 'Slow'; we can click on the gray line to move the green circle indicator to the correct spot to indicate the desired speed.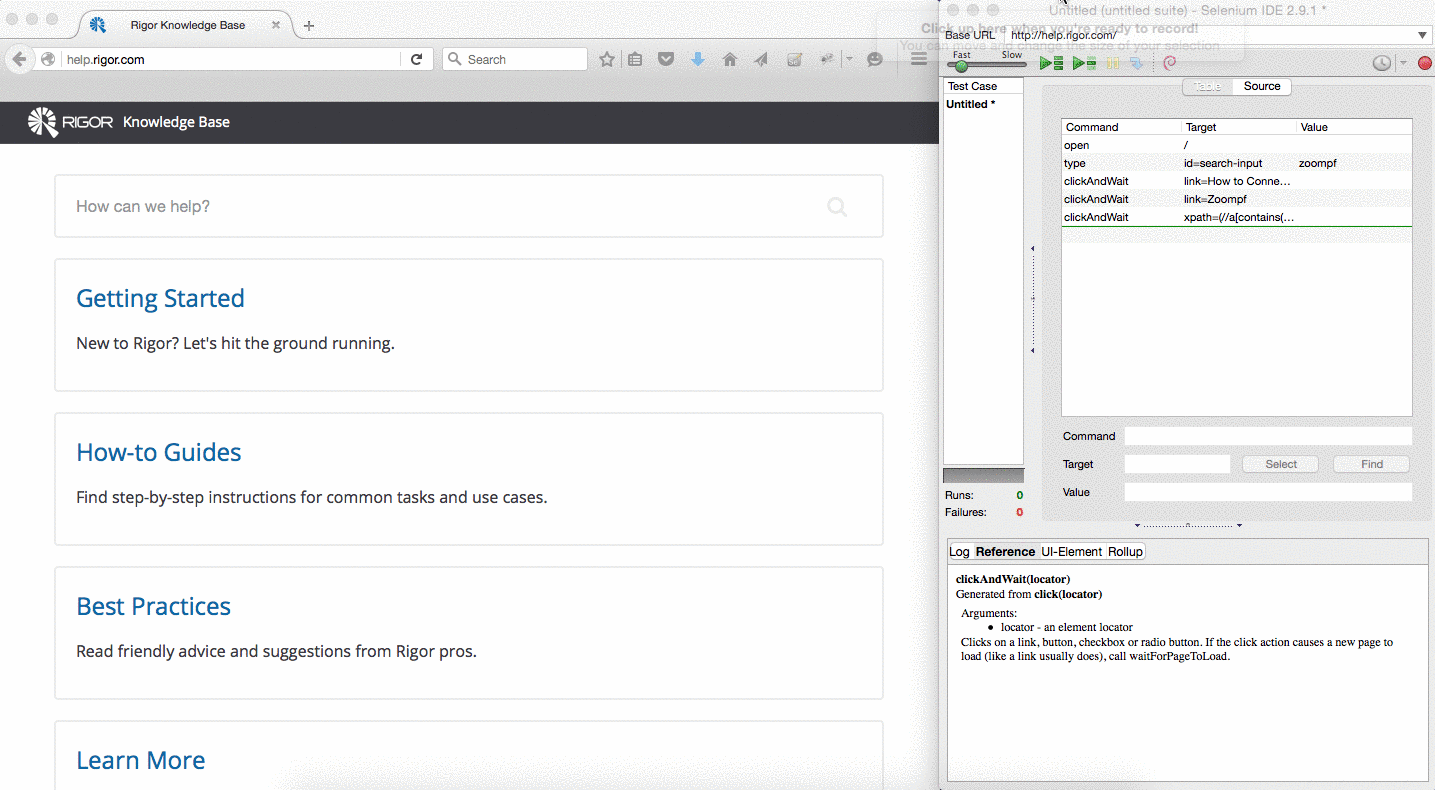 Create a New Real Browser Check in Rigor
If Selenium IDE is able to replay all of the steps without any errors (steps will be highlighted in green) then we can either:
Save the Selenium IDE test case (command + S) or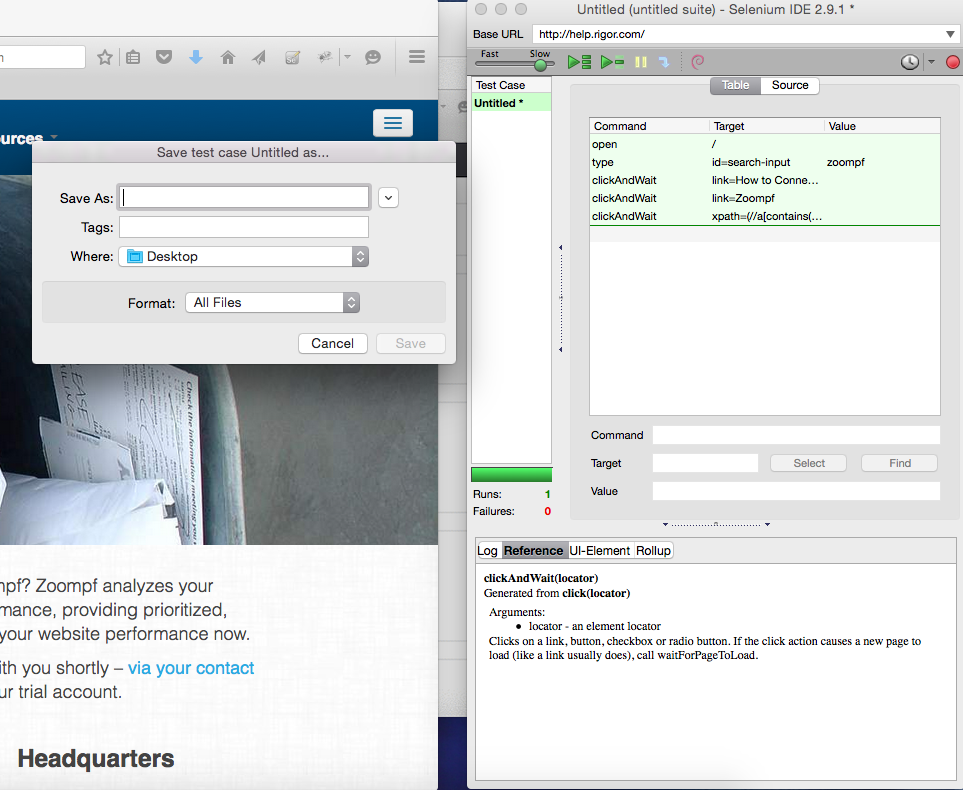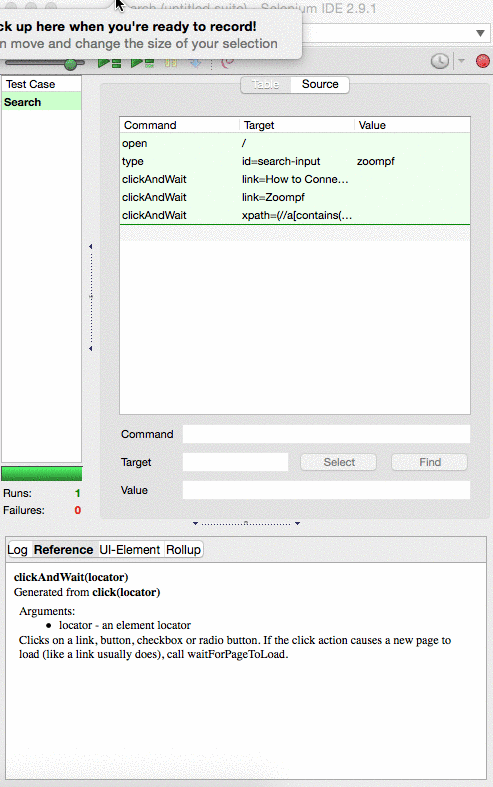 Editing and Troubleshooting
If Selenium IDE is unable to play back all of the steps without any errors we may need to edit steps in the IDE or troubleshoot further before creating a check in Rigor. There is some helpful information about debugging Selenium IDE cases here. Still stuck? Email support@rigor.com for help.